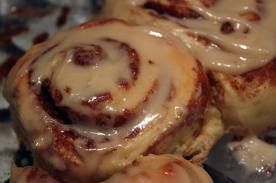 Easy Cinnamon Rolls
This week a reader requested a recipe for the cinnamon rolls and brown sugar icing mentioned in my novel Something New. It wasn't included in the recipe section at the end of the novel. So Ceil, this is for you and anyone else who wants to bake up an old fashioned breakfast.
This recipe is from a cookbook created by the Mary and Martha Fellowship of the Sharon Mennonite Church of Plain City, Ohio. I attended this church in my early twenties. The old favorite is found on page 12, contributed by Mrs. John J. (Janet) Mast.
1 cup milk
1 pkg. yeast
1/2 c. butter         
1/2 c. warm water
1 tsp. salt         
1 egg
1/2 c. sugar         
1 T. cinnamon (or to taste)
4 cups flour
Scald milk. Add butter, salt, sugar to milk. Let cool to lukewarm. Dissolve yeast in warm water. Add yeast mixture to milk mixture; then add egg and 2 cups of flour. Stir until smooth. Add and mix remainder of flour. Cover and set in frig at least 2 hours. Remove and let it get room temperature. Knead. Roll out on floured sheet or counter. Spread melted butter, sprinkle with sugar and cinnamon. Roll up and cut 1 inch thich slices. Put into buttered pans and let rise double. Bake at 350 degrees. Ice with brown sugar icing (below).
Penuche Icing
Also called Amish Brown Sugar Icing
In my opinion, this icing must be used on cinnamon rolls. I also use it on oatmeal cake. It is my mom's recipe, but my mother-in-law gave me the tip of boiling and stirring for exactly two minutes. It makes the perfect consistency. If it cooks too long, it will crack once it cools.
1/2 c. butter or margerine
1/4 c. milk
1 c. brown sugar (packed)
2 c. powdered sugar

Melt butter in saucepan, add brown sugar and milk. Bring to a boil and cook over low heat, stirring for 2 minutes. Remove from stove and add the confectioners sugar until smooth. I use a beater. Spread over rolls or cake immediately.
If you make these, send a photo to christianfiction@rocketmail.com and I'll add them to my pinterest page. I'll do this for photos from any of the recipes you try from my blog.

What are your breakfast favorites?
(Feel free to add a link in your comments)

Categories: Mennonite Recipes