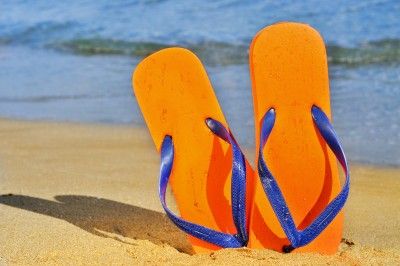 I was afraid of the bogey man.
You know the one--he's headless with flames shooting out of his nose and mouth. I know that doesn't make sense, but it was enough to make me tremble and sweat with the covers clutched over my head in the heat of summer. Dad's favorite show was Twilight Zone. He painted the image in my head. I don't blame him. He was an old-school tease. Some good came from it. Thinned my blood out to later survive desert life.

I was six.
At several sixes time six, I was still stuck in fear's sandpit.
When we lived in the big house and the master bedroom was upstairs, I kept flipflops by the bathroom door. If the house alarm went off, I planned to exit onto the balcony, use adrenalin to scale the ledge, and hide out on the roof. I lived life planning my escape for things that never happened, imagining the worst. Helpful in plotting fiction, not so much in real life.
I was scared of the dark and of heights, of scorpions and spiders, of car accidents and ocean creepies. Afraid of personal humiliation and looking fat. Fear stood in every path and hindered my walk. I cowered. If only the enemy was headless.

When I hit a milestone birthday, I regretted never exploring the path beyond fear. With God's loving nudge, I decided to go for it. Knees knocking, I placed the safety of my children and g-kids into His strong arms and ventured forward, breathlessly expecting my first frightful encounter.

A little thing was a big step because it was done in faith.
I let hubby build a tree house for the gkids. I bit my tongue and kept the "Be careful" warnings to a minimum. Next came a book tour/speaking engagement. I wrestled with it, envisioning humiliation. God impressed me to focus on the needs of the women in the audience. As my heart went out to them, I forgot my fears, and dare I say, I felt joy? Truth is--it's fun and freeing to trust in God's strong arms.
This summer the path led me to a beach vacation with daughter R and her family. I backslid, struggling with the fear of sharks eating the gkids but released it.  I was lounging in my chair with the sand in my toes, really living it up when R jolted me out of my serenity. She wanted me to go with her past the breakers--where the sharks surely lurked-- to ride the boogie board. Boogie. . . oh I didn't like the sound of that or venturing past the part of the water where you can still see your toe nail polish. She begged, "Please, it'll be fun."

Fun? Weakening, I whined, "But I don't want to ruin my new glasses." Inside, I knew she was right. It would be fun. It's true I squealed every time seaweed hit my leg, but I did it with a huge smile plastered on my face.  I'm so thankful my son-in-law L captured it with his zoom lens. Now I can remember the exhilleration that comes from letting go of fear.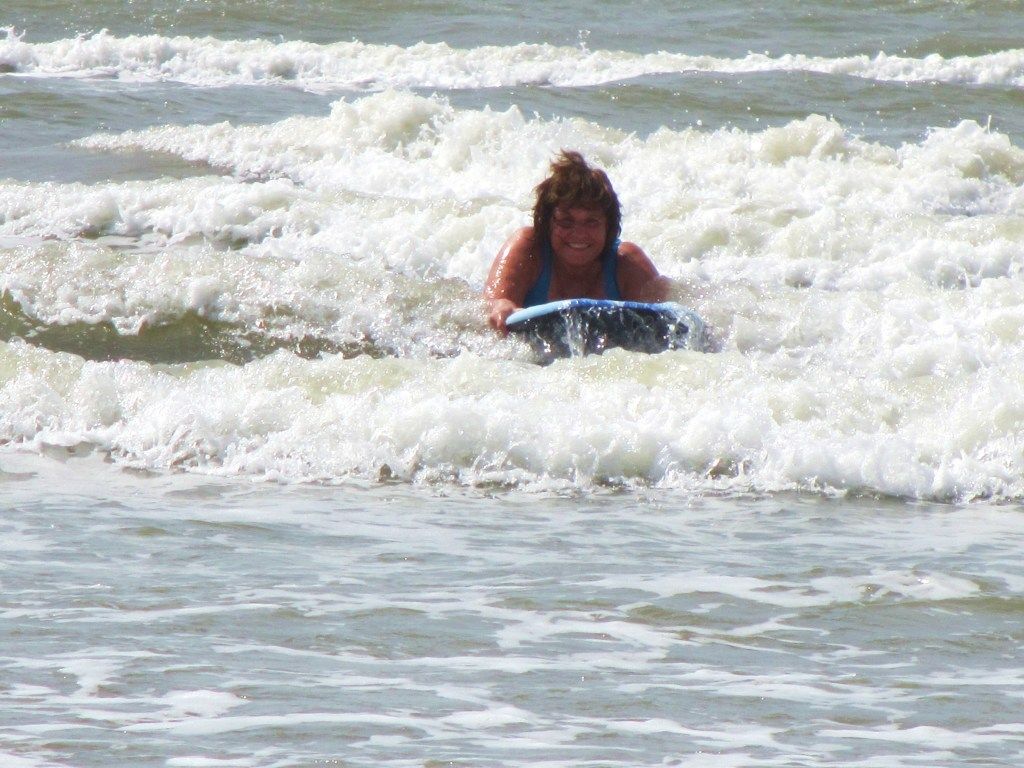 Did I have frightful encounters in the process of breaking free? Yes! Will I have them again. 'Fraid so.
Hey, it's tempting to pull the covers over my private life and keep my writing impersonal so it doesn't catch the enemy's eye and prompt another face to face. But I'm ignoring spineless thoughts and keeping it real 'cause ...

". . . God will never let us down. He'll never let us be pushed past our limit; He'll always be there to help us come through it."  I. Corin 10:13, The Message Bible

When I'm afraid, I envision God's strong arm and unfailing love.
I also ask for prayer support.
The amazing thing is that it's not only FUN to be set FREE, it's exhillerating! Well except for the mad dash afterwards, to get out of the water and back into my bathing suit cover up.

Have you set your flipflops free?
Categories: Personal life