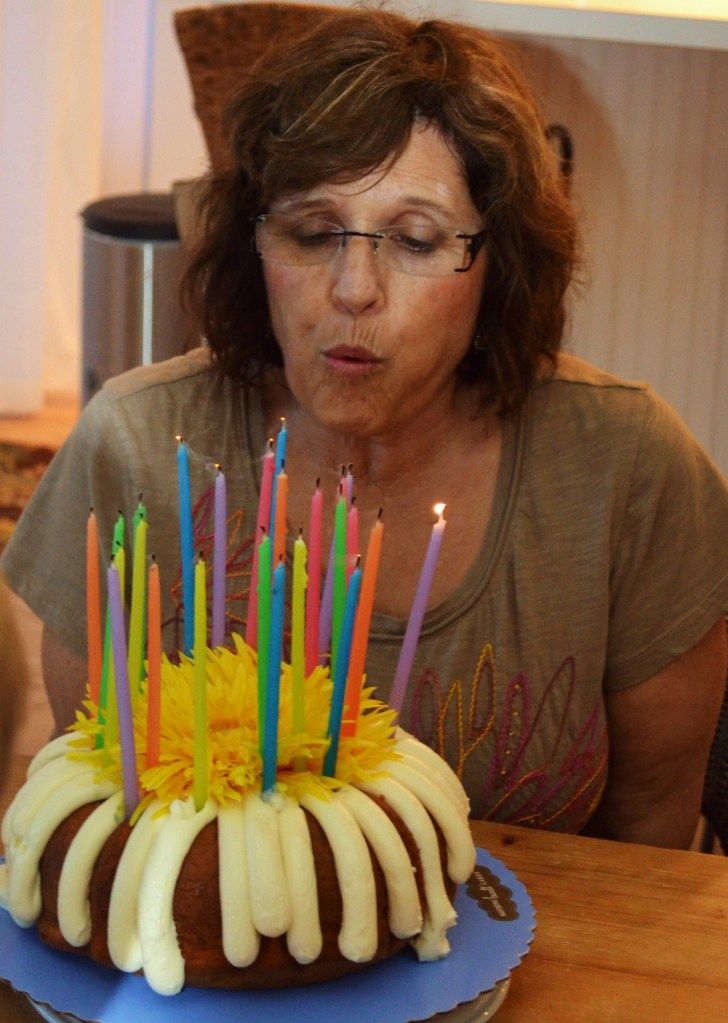 You're never to young or too old to make a wish
and go for your dreams.
If you can get past my recent birthday photo . . . it helps to focus on the cake . . . please take my point to heart. I'm an ordinary woman who's still making her wishes come true. When I was forty, I stood in front of the mirror and asked myself a hard quesiton.
Why am I dissatisfied with my life?
Because you aren't following your dreams, those intermittent God-whispers you've been ignoring. Why are you still resisting? Why aren't you writing?
Like weeds, rationalizations popped into mind, but I knew it was time to yank out their roots and venture into a more fulfilling path for "In Christ we find out who we are and what we are living for" (Eph 1:11 The Message)

Here are the steps I took to follow my dreams.
Step One - Stepped out in faith
I became vulnerable and shared my dream. One day a friend pulled a brochure for a local writers' conference out of her purse. I drooled over it. As green as I was about Christian publishing, I sensed this conference carried the creative potential of an entire season of HGTV, only geared towards writers.
I was a nobody mingling with professionals but the workshops spurred me forward. While those first steps were naturally cautious and faltering, in faith I tottered after my dream.

I didn't have a niche or a writing voice yet, but I tested my skills and produced a 45,000 word manuscript. I wobbled but kept placing one foot in front of the other until I completed that first manuscript.
Step Two - Determined to stretch myself, even if it killed me. . .
. . . A year later I dragged my nobody-self back to the same conference with a completed manuscript under my belt, and a proposal in my hand that I would take to a private appointment with an acquisitions editor.
That particular conference was terrifying because I'd left sponge-mode and entered action-mode without knowing a soul. I hid out, spending an entire break in my car alternating between prayer and hyperventilation. You see, people didn't take me under wing because they couldn't find me.
But the important thing was that I didn't start the engine and head home. Palms sweaty and voice stuttering, I kept the appointment. By the way, it didn't kill me, and now I'm enjoying life more than ever with a network of friends in the industry.
Step Three - Sought professional help
Sure it was humiliating when the Bethany House Acquisitions Editor pointed out typos and suggested I get professional help. But I printed out my manuscript and took it to my daughter's English teacher. We eliminated the typos. Nine months and ten rejections later, I hired a professional editor. The next time I sent out my manuscript, it was accepted by Barbour Publishing to become a Heartsong novella.
Step Four - Entered the competition
I kept a proposal log. Whenever I got a rejection, I revised and sent out my proposal again. Here's a copy of my first log. I sent my proposals directly to publishers. Now they'd get emailed to literary agencies.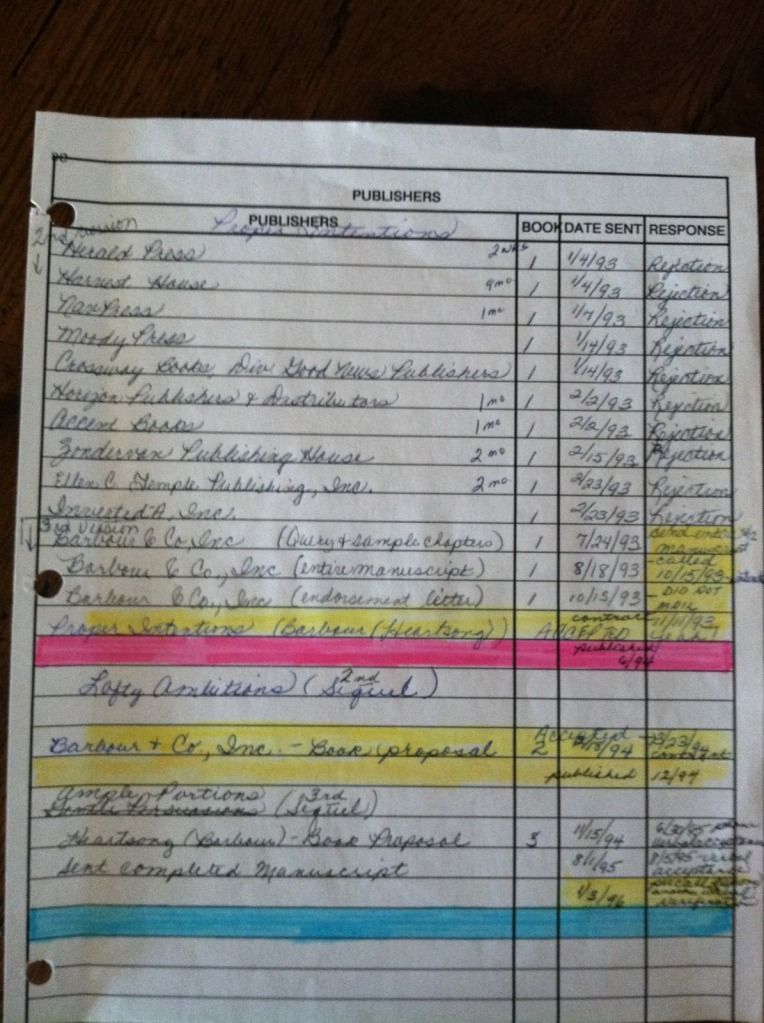 As my dreams progressed from writing to publication,
I set higher goals.

Now that I'm agented and multi-published, my writing dreams are even loftier, which brings us back to last month's birthday photo. I know I can acheive them, and you can acheive your dreams too. And if not, hey, the cake was good!
Categories: Writing, Personal life