Katharine Hepburn

Last week I asked my Facebook friends a question.
Do you prefer an ordinary-looking book heroine or a beautiful one?
Overwhelmingly, they preferred plain in appearance with inspiring inner qualities.  True, most of my readers are women, but that's a bunny trail for another day.
Lately I've been watching classic movies--book research for a job I love.
When I think of ordinary-looking women, one actress comes to mind. Katharine Hepburn. Oh, I don't deny her beauty and would be happy to look half as pretty, but it's an ordinary beauty. She had some pretty basic equipment. She was thin with fox colored hair, freckles, blue eyes, angular features, and a nasal voice.
Katharine was quoted as saying, "Plain women know more about men than beautiful women do."
Hmmm. No wonder they make good romance heroines.

The African Queen    http://www.imdb.com/title/tt0043265/
Did Katharine's passion bring more success than her beauty? While she spent sixty years as a Hollywood leading lady, it didn't come easy. In 1938, she was labeled a box office poison. But she was passionate and didn't give up. She also stayed true to her inner self, which she portrayed in many of her parts . Her personality was perfect for the roles of strong-willed, middle-aged spinsters.
Hepburn wasn't a typical actress
Fiercely private, she distanced herself from the celebrity lifestyle because she thought the social scene was superficial. Unlike her glamorous peers, she didn't wear makeup and dressed in casual clothes. She didn't get chosen for Gone With the Wind because she wasn't sexy enough. She pioneered trousers when it was radical for women to wear them. She played a part in changing attitudes toward her gender.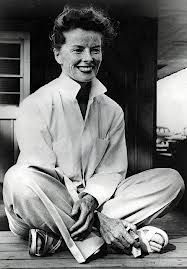 You can feel the passion in Hepburn's eyes.
Hepburn focused her energy on her strengths, rather than conforming to the world. So how does that apply to ordinary women in real life?

Take a woman who's passionate about motherhood. Outshining the sleep-deprived shadows, her eyes glow with love, pride, and hope. Even if mama's reserved or plain looking, she leaves a wake of beauty in a hurting world when her passion comes from within and she stays true to it--doesn't give up. I admire such beauty. It leaves a lasting impression. Inspires.

Before I drag myself off to do more research, I share another Hepburn quote, "My greatest strength is common sense. I'm really a standard brand--like Campbell's Tomato Soup or Baker's Chocolate."

Do you prefer an ordinary looking heroine or a beautiful one?
Why?
Categories: Writing, Personal life