On Monday I flipped my calendar,
had a recollection of reading in the news that
Punxsutawney Phil the groundhog had already made his prediction...
 ...an early spring.
Spring? I felt a sinking sensation at the fast passage of time. Was it the glimpse of Valentine's Day on my calendar? At the flip of a page, I felt as if my week was vanishing before it even got started. Didn't we just have Christmas?
With a blog post to write, I needed to ditch the anxiety and focus. Then I thought of a way to kill two birds with one stone. And I set out to prove my theory.

Time flies faster, the older we get.
I went to the internet for proof and struck gold because there's a ton of information on the topic. And it's good news. Our brains give us our perception of time. Our perception can be changed. Here's my extra-simplified version:
The more new impressions our brain gets, the slower time seems. In our early years, more first-time events got recorded in our brains. But now it receives repetitive experiences which it merely catalogues into groupings. Less impressions makes time seem to go faster for us.
For instance, the first two days of vacation probably seem to go slower than the rest of it. Same with the first day on a new job. But if I drive the same route every day, unless something out of the ordinary happens, I can hardly remember it. My brain even gets to the point that it says, if you aren't going to feed me, I'll fall asleep.

Some other interesting perception tidbits:
-Heat speeds time. That explains a lot because I live in the desert.
-Cool slows it down. Is that why winter seems longer than any other season?
-Negative emotions (and boredom) seem longer than positive emotions.
Quote

"Put your hand on a hot stove for a minute and it seems like an hour.
Sit with a pretty girl for an hour and it seems like a minute.
That's relativity."
Albert Einstein
Another reason it seems like time passes quicker as we get older - a year for a five-year old is 20% of their life time. But for a thirty-year old? You do the math.
But Can I Catch Time?
Relatively speaking, yes, with new experiences. I need to go to new places and give myself new challenges. Meet new people and try new hobbies. Hone new skills. Be more aware of what's happening around me. Sounds ironic doesn't it? Taking on more to make more time? What an upside down world.

I decided to test this theory against the scripture.
Matthew 6
"26 Look at the birds of the air: they neither sow nor reap nor gather into barns, and yet your heavenly Father feeds them. Are you not of more value than they? 27 And which of you by being anxious can add a single hour to his span of life? 33 But seek first the kingdom of God and his righteousness, and all these things will be added to you."

So instead of stoning birds, I'm supposed to be observing them. Okay, I like that. And by trusting God, I can release anxiety. Feeling better already. I'm going to implement some new things this week and see how it changes my perception of time. Maybe I can figure out a way to apply it to Valentine's Day. And why not embrace Groundhog Day?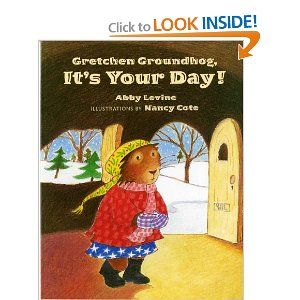 A cute story about a little groundhog that was too shy to do her job.

http://www.amazon.com/Gretchen-Groundhog-Its-Your-Day/dp/080753059X
Thoughts?

Categories: Personal life