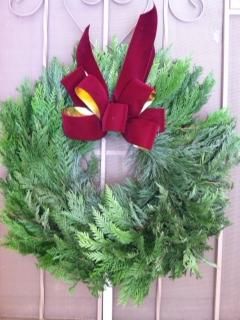 Wreath on my front door.
Christmas Greetings from my house to yours.
Being an organizer, I subscribed to Fly Lady's Christmas emails back in early November.
http://www.flylady.net
She gives tips and daily tasks to prepare for Christmas. I love making lists and checking them off. 
But this year, things didn't go anything like I'd planned.
If you've been following me on Facebook, you already know that I lost my dad on Thanksgiving Day. When he was first hospitalized, Jim drove me to Spokane, Washington to be with him. Jim stayed a week and flew home while I stayed with my sister. While helping with dad, I experienced some hard times, but a bright spot was getting a taste of winter. It was the first time I'd scraped car windows since I've been married, cold for a gal used to desert life.
Dad was a special man, known for his bear hugs, kisses, hearty laughter and prayers. I was fortunate to spend quality time with him and even held his hand when he passed. He was so loved in his church that the pastor broke down and cried during the Memorial Service. Besides the church service, Dad had a military interment. Both beautiful.
Jim flew back for the funeral, and we drove home around mid December. Altogether, I was gone for a month. So this Christmas, things aren't perfect. I didn't even put up a tree. Yet knowing God's timing is perfect, and after experiencing the holy moments and bonding a family shares when a member passes, it feels special to me.
This is a very spiritual holiday season
  because I'm aware of God's abiding love.

When I came home, I purchased a few Christmas balls to make a centerpiece without having to drag out boxes of decorations. I normally have a vintage angel collection that I display here. But I'll enjoy that next year, God willing.

My dining room.
(If you're reading this on your computer, all is good, but if you've found your way in via Facebook or your cell phone, my photos are upside down. Not sure what happened, but welcome to my topsy-turvy world.)
I won't miss out on the decorations, however, cause we'll be spending Christmas with our daughter and family, and Rachel always decorates her home in a grand manner. Then, we'll host a New Year's Eve sleep over for our son and famiy.
Truly, I'm blessed.
Meanwhile, I'm enjoying the parties others are hosting and getting my nightly fix of Hallmark's Christmas movies. They have a ton of new ones this year.
What's special for you this Christmas?
Sending best wishes your way,

Categories: Personal life - Reality Posts