...plain girl romanticizing...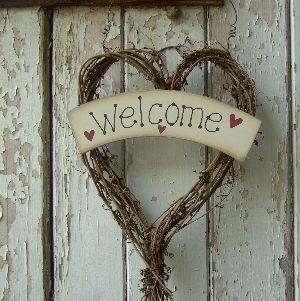 Christian hospitality is a wonderful characteristic incorporated into popular Christian novels. Writers intentionally embrace readers through the warmth of their characters. At least, that's what I try to do.

My characters are based on Mennonite people who know how to wrap their arms around others, invite them into their homes, and make them feel special. Hotels are not their favored option. They'd rather throw out the welcome mat and entertain in their homes.
Mennonite and Amish women still stock their cupboards with food and extra quilts, probably handmade ones, and are ready and eager for unexpected guests. In our whirlwind lifestyles, Christian fiction brings this type of old fashioned, feel-good hospitality into our imaginations.

Such hospitality reminds me of pioneer and even Biblical times--when people took strangers into their homes to protect them from the elements. It was the expected norm. Not so much in modern e-vite and RSVP style.

The upcoming holidays are a great opportunity to indulge in the pleasure of giving ourselves to others and entertaining in our homes. I'd love to hear any of your helpful ideas or plans on this topic.
For myself, I'm going to try to think about my guests' needs more than glorifying my own hostessing abilities.
To subscribe to this blog, use the orange RSS button below.

Categories: Amish Mennonites, Writing